Blogging bits and pieces. There is a geek humour web, xkcd.com, which I strongly recommend. Below you can find yesterday's post. It says that there were 2 google references to 'died in a blogging accident'. But when I googled this morning, I found 247000. He. Therefore, I couldn't found the 2 original entries,... thus I decided to help with my 2 cents' worth.
I just wish we were so active for other things also...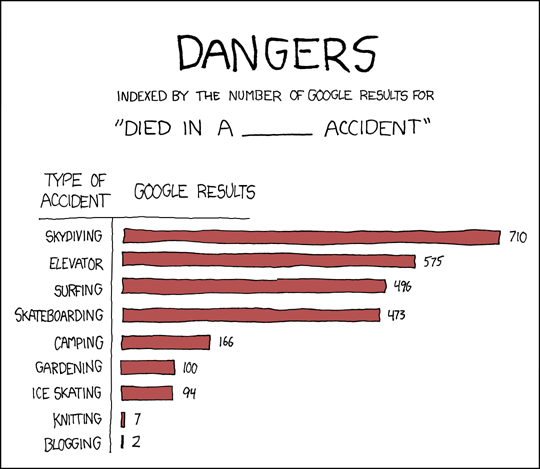 Curiosidades de la blogosfera. Hay una página de humor geek, xkcd.com, que recomiendo a todo el mundo. La tira de ayer la teneis arriba. Según esto, hasta hace nada había 2 referencias en google a 'died in a blogging accident'. Cuando he buscado esta mañana, había 247000. Je. Así que, para empezar, no he podido encontrar las dos entradas originales,... y luego he querido aportar mi pequeño granito de arena.
Ay, si nos movieramos así para otras cosas...