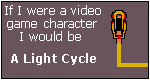 I am a Light Cycle.


I drive fast, I turn fast, I do everything fast. I even breakfast. I tend to confuse people with my sudden changes of heart. Sometimes I even confuse myself, which tends to cause problems.

(If you were not a Light Cycle you would be a Pacman Ghost.)

What Video Game Character Are You?

I never played that game, so... anyway, I agree with the description. But, if you check the Pacman Ghost...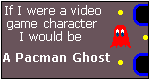 I am a Pacman Ghost.


I like to hang around with friends, chatting, dancing, all that sort of thing. We don't appreciate outsiders, and do our best to discourage others approaching us. I enjoy occasionally wandering around randomly, and often find that when I do so, I get to where I wanted to be. What Video Game Character Are You?

And now I know what I'm talking about! Pacman Ghosts rule!!